The Marietta Athletic Boosters 4X4 raffle fundraiser will end tonight at the Marietta v Warren preview varsity basketball game! You must have your ticket and money turned in by 5 PM to be eligible to win! Booster representatives will be at the games today to accept your tickets and money. You do not have to be in attendance to win but we would love to have you here!
MHS Girls Soccer is headed to the Final Four!! Game time and location: 6pm St Francis DeSales HS 4212 Karl Rd Columbus, OH OHSAA.org/tickets Here's what we have scheduled: 1:30pm - MHS Pep Rally 2pm - Departure from MHS (police escort) 2:10pm - Drive past Wash Elem (4th St then Wash st). 2:20pm - Drive up and past MES. 2:30pm - Drive up Elmwood Ave, past the front of Phillips Elem and back down Wayne St). Head to Columbus to beat Waynesville! We also have free student tickets available donated by the Marietta Athletic Boosters. Contact Cody Venderlic, Marietta AD to get your free ticket by Tuesday at noon or sign up on the Athletic Dept window! State Semis - here we come!!!
Former NFL Detroit Lion Defensive Lineman Andre Fluellen will be speaking tonight at the MHS Auditorium! 7pm - Free to all! His message - "We are not born winners. We are not born losers. We are born choosers!" Winter OHSAA Mandatory Player/Parent Meeting at 6:30pm right before! Hope to see you there!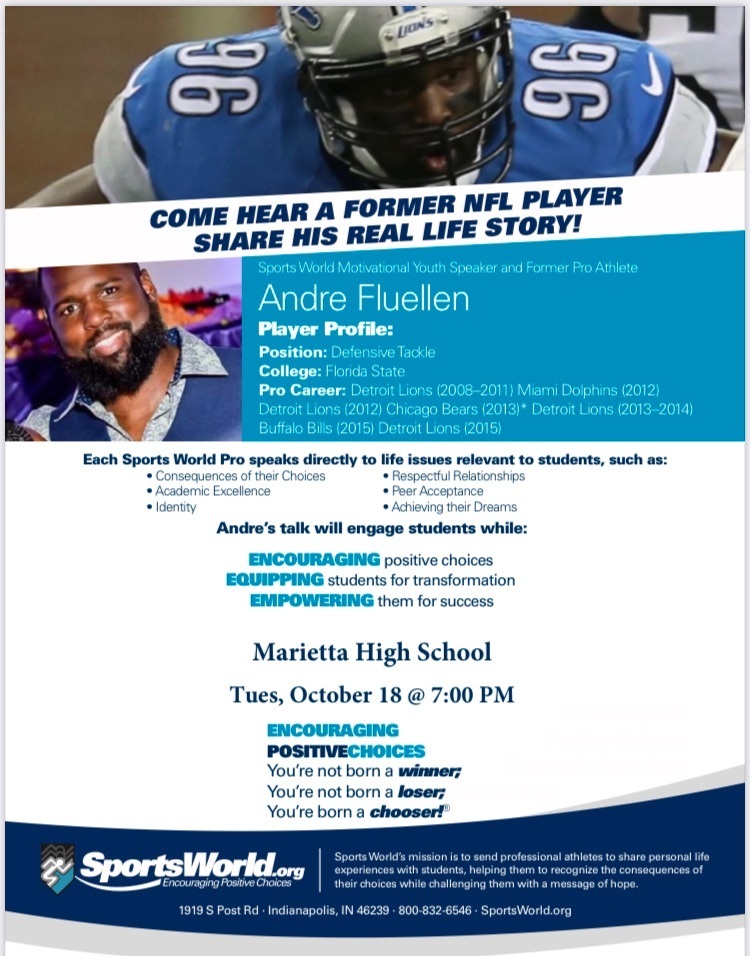 Tiger Families, Did you know you can pay for your student's lunch with ease from your phone? Elementary meals are $3 and meals at the high school are $3.25. Learn more about our meal program and how to apply for free/reduced lunch here:
https://www.mariettacityschools.k12.oh.us/article/819495
Need help applying? Join Mr. Silvus and Mr. Snider at the Community Resource Fair Sunday at 1 p.m. in the Lafayette Hotel.

Welcome back Tiger families! We can't wait to see you learning, growing, making new friends and building independence this school year! With buses on the road beginning this morning, please keep an eye out for our students and help us keep them safe by following traffic laws.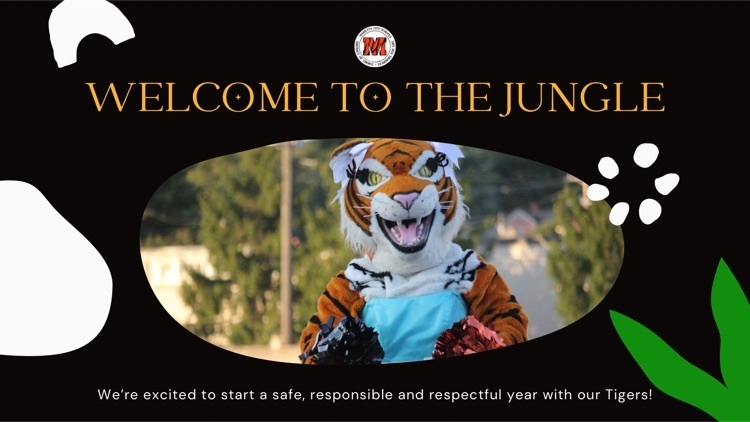 Now recruiting ! Our food service partner, AVI, is currently hiring for the 2022-23 school year. Join this incredible team with part-time hours on the same schedule as our Tiger students. For more information, call 740-376-2472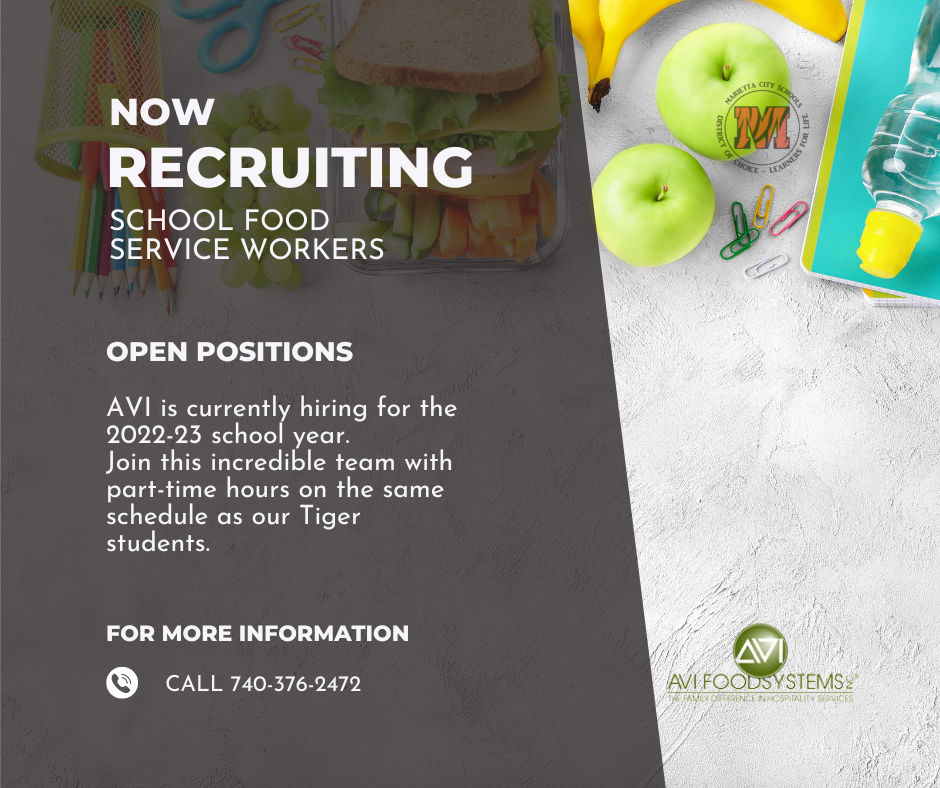 OHSAA Mandatory Player/Parent Meeting Tonight! 6:30pm - MHS Auditorium All-Sports Passes will be on sale tonight in person! Cash or check preferred! Credit option also available! $25 - Senior Citizen $60 - Student $100 - Adult $300 - Family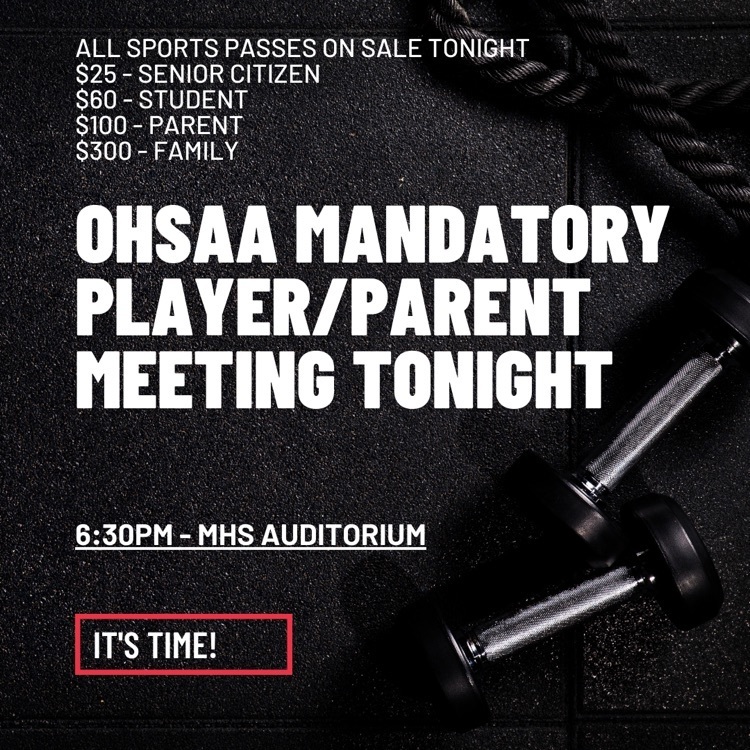 UPDATE: Due to the weather forecast and gym renovation, the youth camp is being pushed back one day. It will now be held July 19th-July 21st from 6pm-8pm at the HS practice field. Thanks and hope to see everyone then!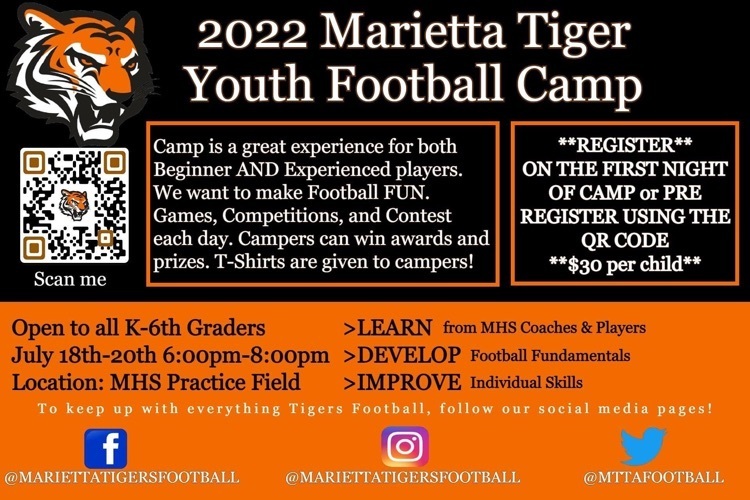 Mark your calendars Student Athletes and Parents: 7/26/2022 - 6:30pm Mandatory OHSAA Player/Parent Meeting MHS Auditorium For all 7th-12th grade athletes and their parents that plan to play a fall sport!

REMINDER | The final superintendent search focus group sessions take place today in the Marietta College Gathering Place, 127 North Seventh Street. Can't make the afternoon sessions? Join us this morning! 10:30 - 11 a.m. | NEW PUBLIC SESSION For more:
https://bit.ly/3O42x99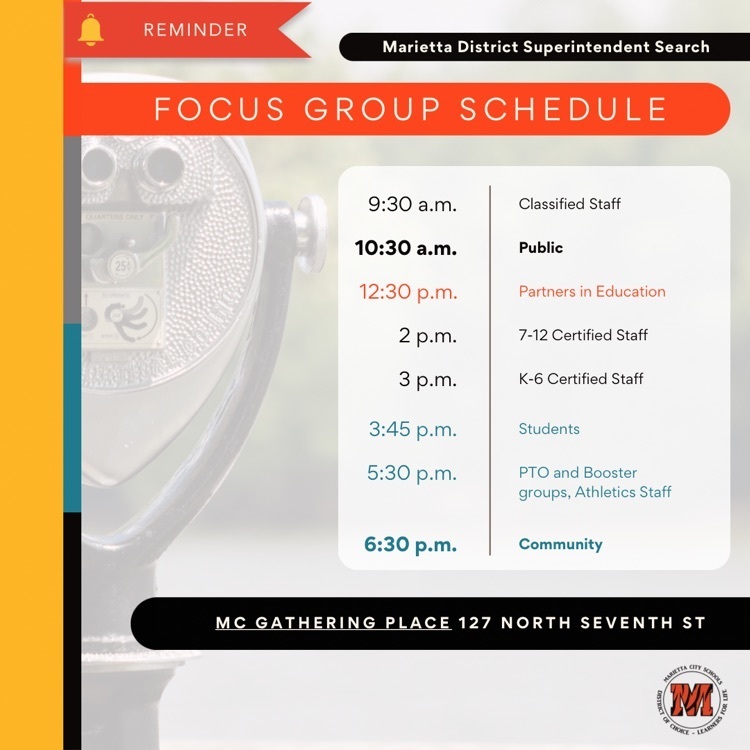 Marietta City Schools has opened a fifth time for community input during focus group sessions this Friday. The public is welcome to join OSBA for a discussion surrounding the superintendent search at Marietta College's Gathering Place at the corner of Seventh and Butler Streets. Parking is available in the college lot across from Tim Horton's.
https://www.mariettacityschools.k12.oh.us/article/765635

Good morning Marietta! Safetytown at Phillips Elementary and Marietta Elementary School Summer Camp are on schedule to continue today despite recent weather.

FINAL CALL | All staff, students and parents Please take 10 minutes to complete the community survey at bit.ly/MariettaLeads The survey closes at midnight. The anonymous survey includes three questions concerning the skills needed for the next district superintendent.

Thank you to the individuals who attended Tuesday's focus group sessions! Your feedback will help the Board of Education determine the final candidates for Marietta City Schools next superintendent. Parents, students and staff: If you missed Tuesday, please consider completing the anonymous community survey by Friday June 10 and/or attending the final focus group day on June 17. Click the following link to learn more:
https://www.mariettacityschools.k12.oh.us/article/762576

REMINDER Parents and students are invited to a 30-minute focus group session today in the Marietta High School cafeteria, 115 Academy Drive, to aid in the district superintendent search. The board has designated four times for public input: 12:30 p.m. | Partners in Education 3:45 p.m. | Students 5:30 p.m. | Parent-Teacher Organizations, Boosters, Athletics staff 6:30 p.m. | General Public

Tiger Families Please consider joining the Ohio School Boards Association consultant during one of the following 30-minute focus group sessions on June 7 or June 17: Partners in Education | 12:30 p.m. Students | 3:45 p.m. Parent-teacher organizations and booster groups | 5:30 p.m. Public | 6:30 p.m. June 7 sessions will be held in the Marietta High School cafeteria. June 17 sessions will be held in the Marietta College Gathering Place, 127 North Seventh Street, across from Tim Horton's. Please also take 10 minutes to complete the following community survey: bit.ly/MariettaLeads Learn more about the superintendent search process on the district website.
Good morning! For all students coming to complete their physical today, they will be held in the MHS weight room! An appointment must be made prior. Students must bring their completed physical form (including a parent signature) to their appointment. Thank you and have a great summer!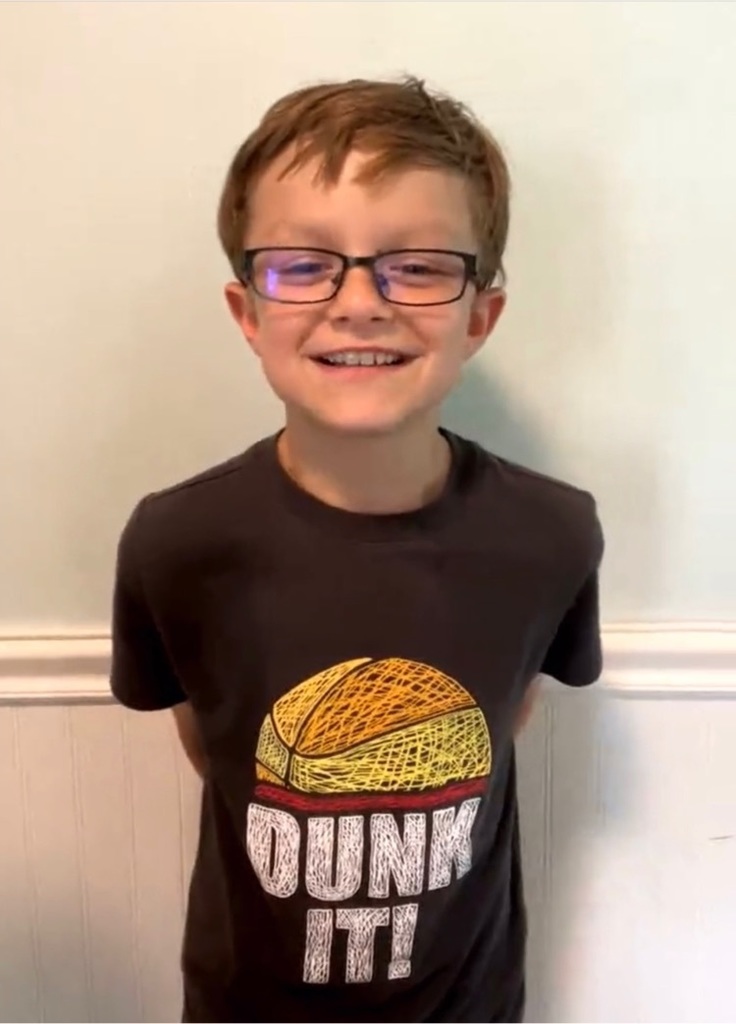 If you haven't made dinner plans for tonight, swing by Applebees to support Marietta Athletics! Go Tigers!