We love to hear your feedback! The good, the challenging, the inspiring and the aspirational. With our continuous improvement survey, we are seeking targeted feedback to improve at each of our academic buildings. To date, Marietta High School has the highest participation in the continuous improvement survey that closes on Friday. MHS has 146 parents/guardians who have responded. Marietta Elementary School is coming in with a close second with 101 parents/guardians responding. Then, Phillips and Washington elementary schools are neck and neck with each other with 52 and 49 respondents respectively. Is your voice and perspective included in the survey? Take it today at
https://surveyurls.com/j3u

Parents & Guardians, don't forget! • Preregister for kindergarten at bit.ly/KindergartenStart23-25 • Take the Continuous Improvement Survey at bit.ly/MariettaContinuousImprovement2023 this survey closes Friday • Attend Math and Reading nights at Phillips Elementary School tomorrow at 5:30 p.m. or Washington Elementary School on March 23 at 6 p.m. (if your Tiger attends one of these schools). Go Tigers!

With your feedback, the strategic planning core team has identified key focus areas and the City of Marietta has identified targets for infrastructure upgrades. Now help our buildings work to take specific action by taking this survey today:
https://surveyurls.com/j3u

Each year, Marietta City Schools conducts various surveys with staff, students and the adults at home who support our Tigers. Parents and Guardians, please take 10-15 minutes today to take our Continuous Improvement Survey for Marietta Elementary School-specific feedback about your experience this year at
https://surveyurls.com/j3u
Learn more about recent feedback we've received at
https://bit.ly/MariettaContinuousImprovement2023

Do you have a child turning 5 years old on or before Aug. 1 this year? Don't forget to begin the Kindergarten Registration Process! The first step is preregistration here: bit.ly/KindergartenStart23-24 Please share with neighbors, family and friends who may also have a future Tiger in their household!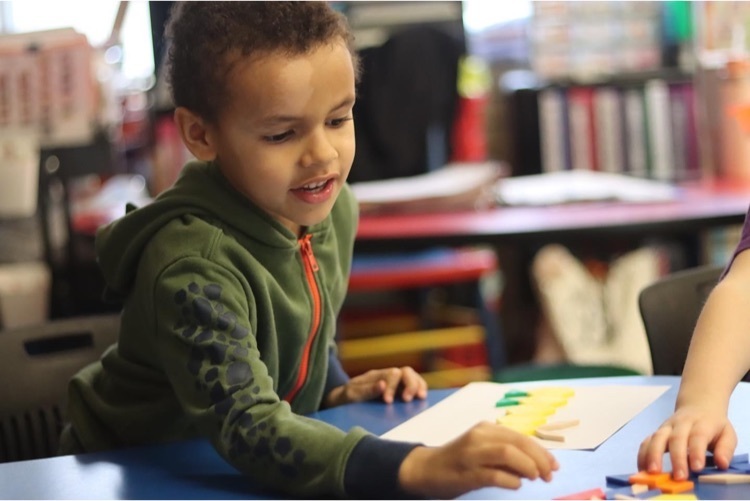 Good morning Tigers! Don't miss the final performance of 'Matilda, The Musical' today at 2 p.m. in the Marietta High School Auditorium! These students will have you jumping from your seat with the energy and skill they bring to the stage. Get your tickets from the ease of your phone at bit.ly/MariettaMatilda or bring $12 per ticket for admission at the door! See you this afternoon for the last show!
Good morning Tiger Fans! There has been some confusion with the start time for tonight's boys basketball sectional semi game! The Tigers will tip off vs Unioto at 7pm tonight! As a reminder, tickets must be purchased online as this is a playoff game run by the OHSAA! Get your tickets here: OHSAA.org/tickets Select basketball, boys basketball, DII, Southeast Good luck boys and we will see you all tonight at Sutton Gym!
Good morning Tigers! Swing by Smitty's today for lunch or dinner to support your MHS Softball team! Then, head to Sutton Gym tonight at 7pm for our Varsity Girls Basketball Sectional Final v Greenfield McClain! Tickets are sold by the OHSAA for all playoff events. No passes can be accepted! OHSAA.org/tickets Select: Basketball, Girls Basketball, DII, Southeast I Go Tigers!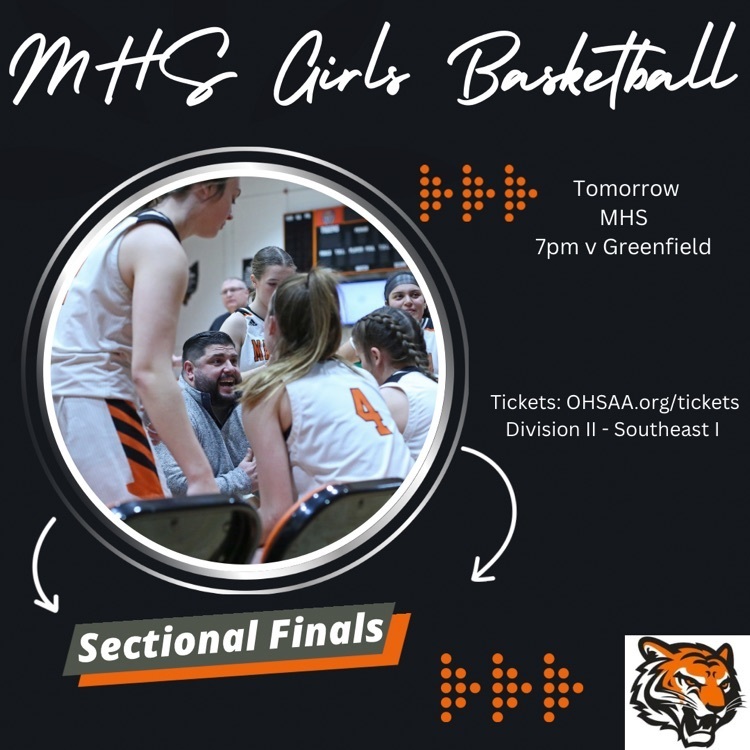 Good morning Tiger Families! Please remember to take the safety survey today: bit.ly/SafeMarietta23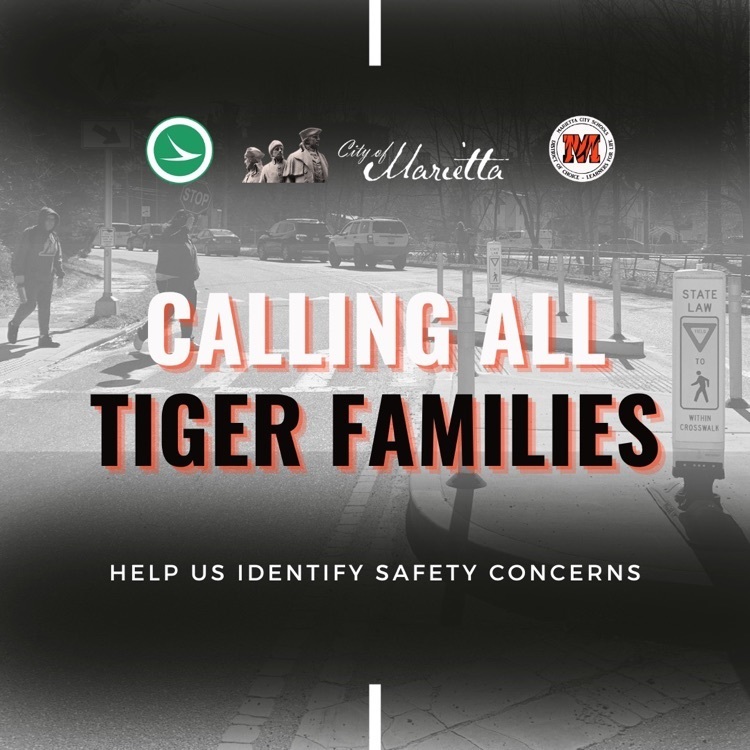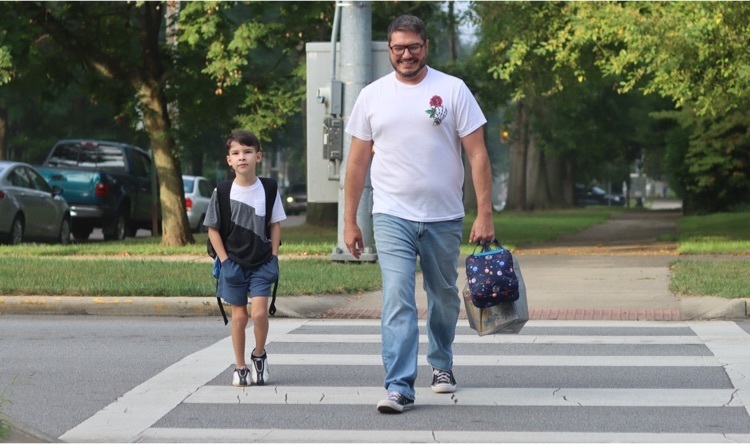 School is closed today due to icy road conditions.
Attention Tiger Fans! Anyone that is planning to attend tonight's basketball triple-header v Warren, please park on the Colegate side of the school to leave additional space on the Davis Side for our guests. We expect tonight to be the busiest night of the year. Thank you!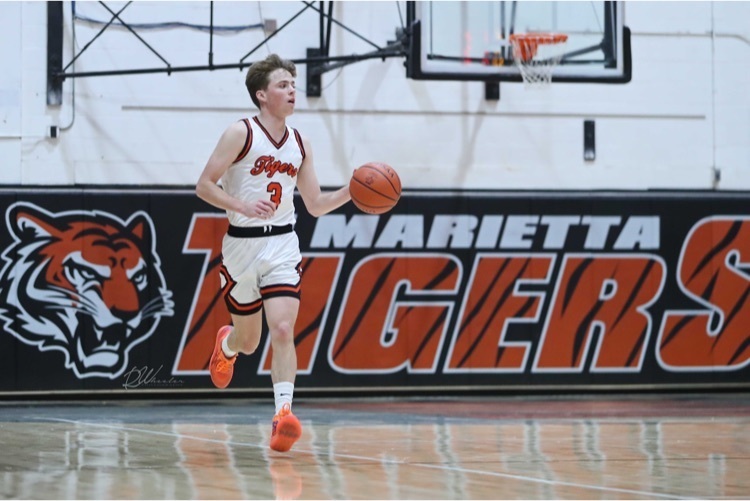 Attention Tiger Fans! Anyone that is planning to attend tonight's basketball triple-header v Athens (#PlayforAsh), please park on the Colegate side of the school to leave additional space on the Davis Side for our additional visitors! Thank you!
We will be handing out the Ashton fundraiser Tshirts on Saturday, 1/14/23, at Marietta High School from 11-1. Duffy as well as some of our wonderful friends and family will be there to help make this run as smooth as possible. We do have spreadsheets of all the orders and will divide each sheet up. One person will check off Names received while another person will get your order for you. Please be patient with us during this process. Thank you!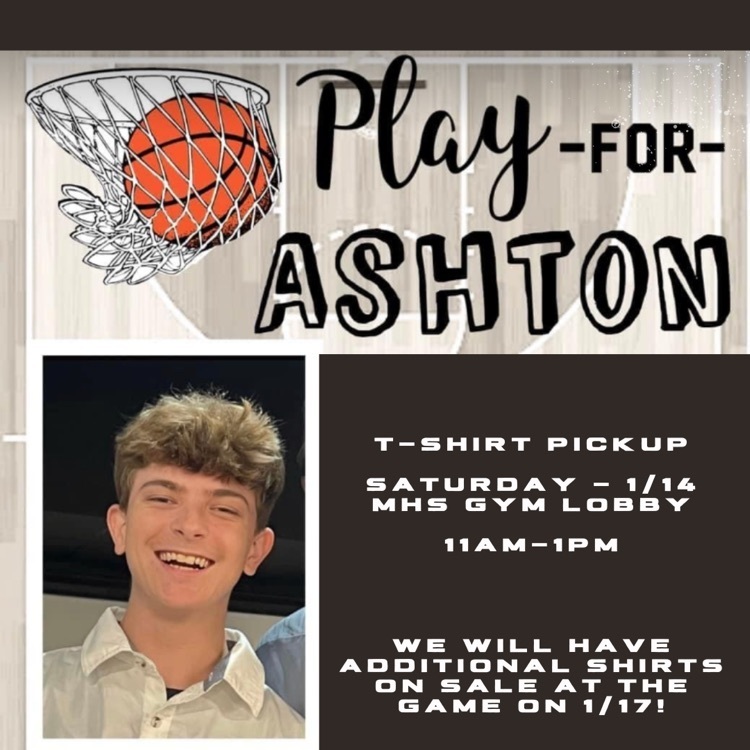 The Marietta Athletic Boosters 4X4 raffle fundraiser will end tonight at the Marietta v Warren preview varsity basketball game! You must have your ticket and money turned in by 5 PM to be eligible to win! Booster representatives will be at the games today to accept your tickets and money. You do not have to be in attendance to win but we would love to have you here!
MHS Girls Soccer is headed to the Final Four!! Game time and location: 6pm St Francis DeSales HS 4212 Karl Rd Columbus, OH OHSAA.org/tickets Here's what we have scheduled: 1:30pm - MHS Pep Rally 2pm - Departure from MHS (police escort) 2:10pm - Drive past Wash Elem (4th St then Wash st). 2:20pm - Drive up and past MES. 2:30pm - Drive up Elmwood Ave, past the front of Phillips Elem and back down Wayne St). Head to Columbus to beat Waynesville! We also have free student tickets available donated by the Marietta Athletic Boosters. Contact Cody Venderlic, Marietta AD to get your free ticket by Tuesday at noon or sign up on the Athletic Dept window! State Semis - here we come!!!
Former NFL Detroit Lion Defensive Lineman Andre Fluellen will be speaking tonight at the MHS Auditorium! 7pm - Free to all! His message - "We are not born winners. We are not born losers. We are born choosers!" Winter OHSAA Mandatory Player/Parent Meeting at 6:30pm right before! Hope to see you there!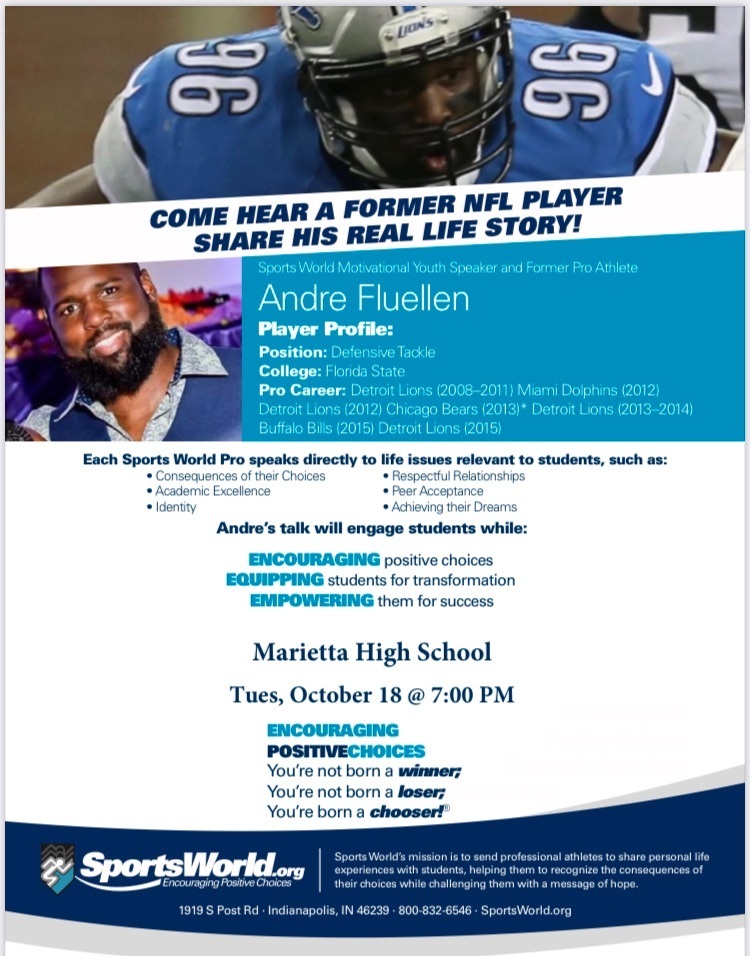 Tiger Families, Did you know you can pay for your student's lunch with ease from your phone? Elementary meals are $3 and meals at the high school are $3.25. Learn more about our meal program and how to apply for free/reduced lunch here:
https://www.mariettacityschools.k12.oh.us/article/819495
Need help applying? Join Mr. Silvus and Mr. Snider at the Community Resource Fair Sunday at 1 p.m. in the Lafayette Hotel.

Welcome back Tiger families! We can't wait to see you learning, growing, making new friends and building independence this school year! With buses on the road beginning this morning, please keep an eye out for our students and help us keep them safe by following traffic laws.