The Marietta Athletic Boosters 4X4 raffle fundraiser will end tonight at the Marietta v Warren preview varsity basketball game! You must have your ticket and money turned in by 5 PM to be eligible to win! Booster representatives will be at the games today to accept your tickets and money. You do not have to be in attendance to win but we would love to have you here!
MHS Girls Soccer is headed to the Final Four!! Game time and location: 6pm St Francis DeSales HS 4212 Karl Rd Columbus, OH OHSAA.org/tickets Here's what we have scheduled: 1:30pm - MHS Pep Rally 2pm - Departure from MHS (police escort) 2:10pm - Drive past Wash Elem (4th St then Wash st). 2:20pm - Drive up and past MES. 2:30pm - Drive up Elmwood Ave, past the front of Phillips Elem and back down Wayne St). Head to Columbus to beat Waynesville! We also have free student tickets available donated by the Marietta Athletic Boosters. Contact Cody Venderlic, Marietta AD to get your free ticket by Tuesday at noon or sign up on the Athletic Dept window! State Semis - here we come!!!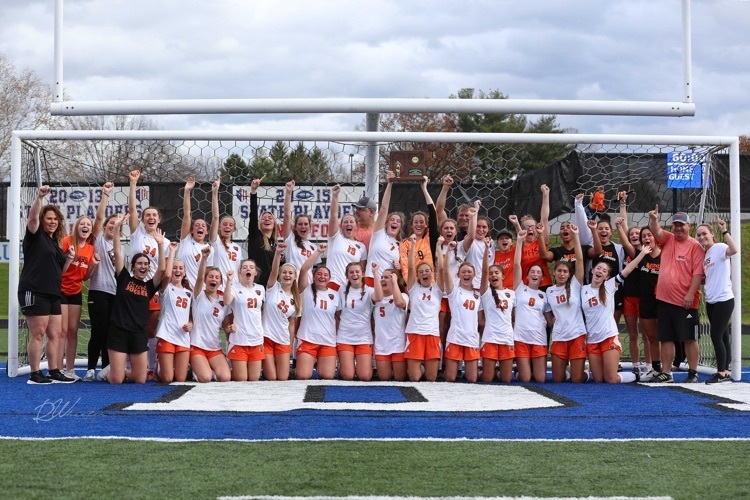 Happy Friday MCS! MHS and MES parents and students, please take a moment to fill out this brief survey for the Marietta Athletic Department:
https://forms.gle/LGm9bWbZtvspDDDH6
Hope to see you at Warren tonight! Have a wonderful weekend! Cody Venderlic Marietta AD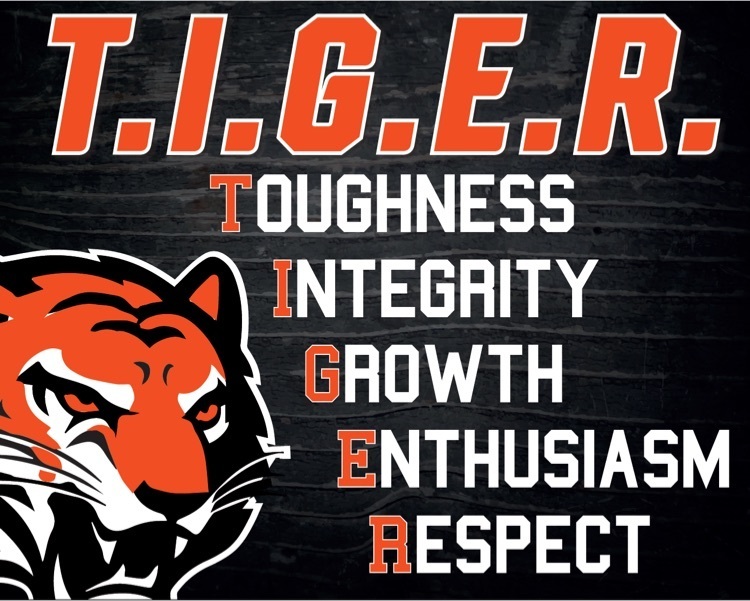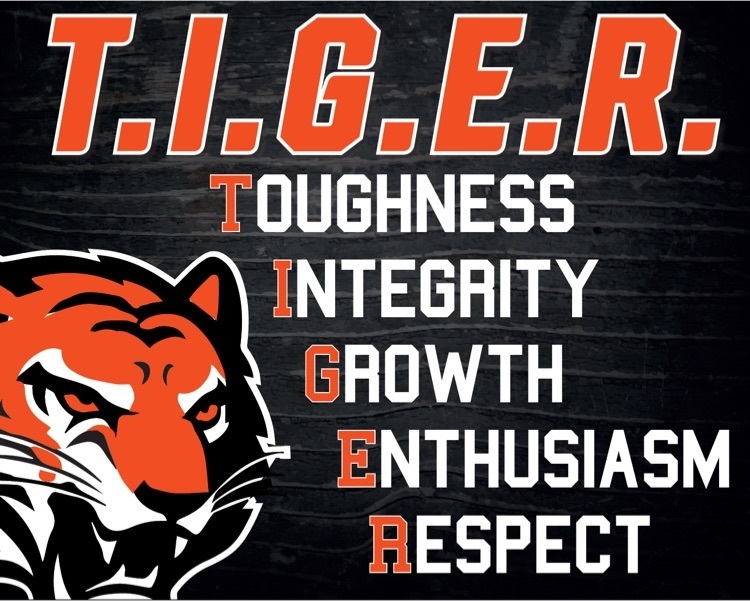 Former NFL Detroit Lion Defensive Lineman Andre Fluellen will be speaking tonight at the MHS Auditorium! 7pm - Free to all! His message - "We are not born winners. We are not born losers. We are born choosers!" Winter OHSAA Mandatory Player/Parent Meeting at 6:30pm right before! Hope to see you there!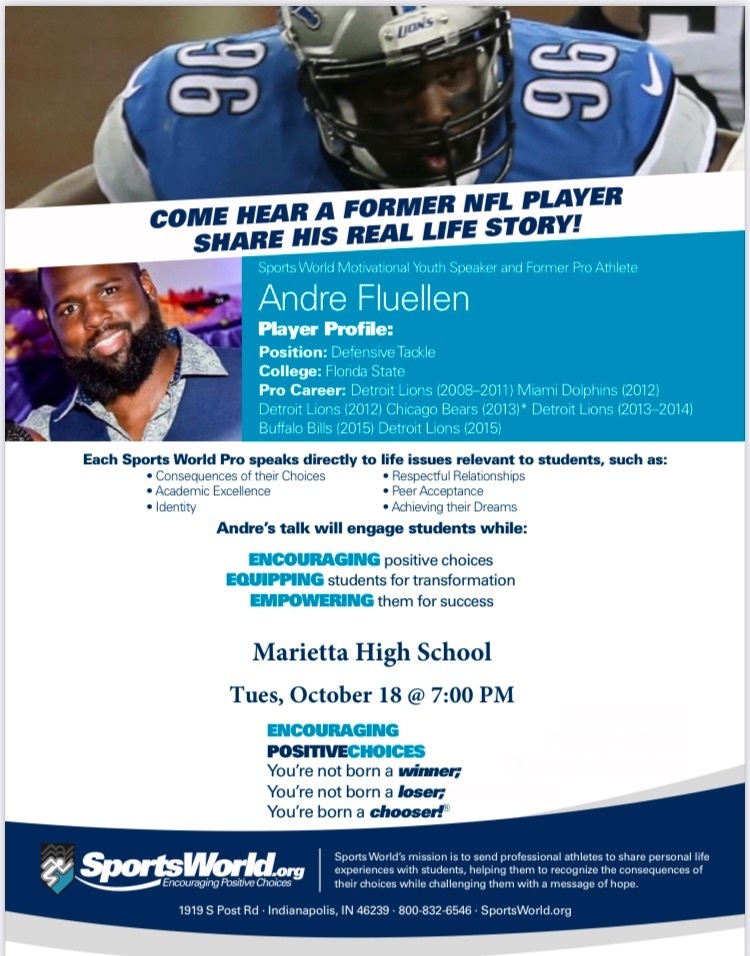 OHSAA Mandatory Player/Parent Meeting Tonight! 6:30pm - MHS Auditorium All-Sports Passes will be on sale tonight in person! Cash or check preferred! Credit option also available! $25 - Senior Citizen $60 - Student $100 - Adult $300 - Family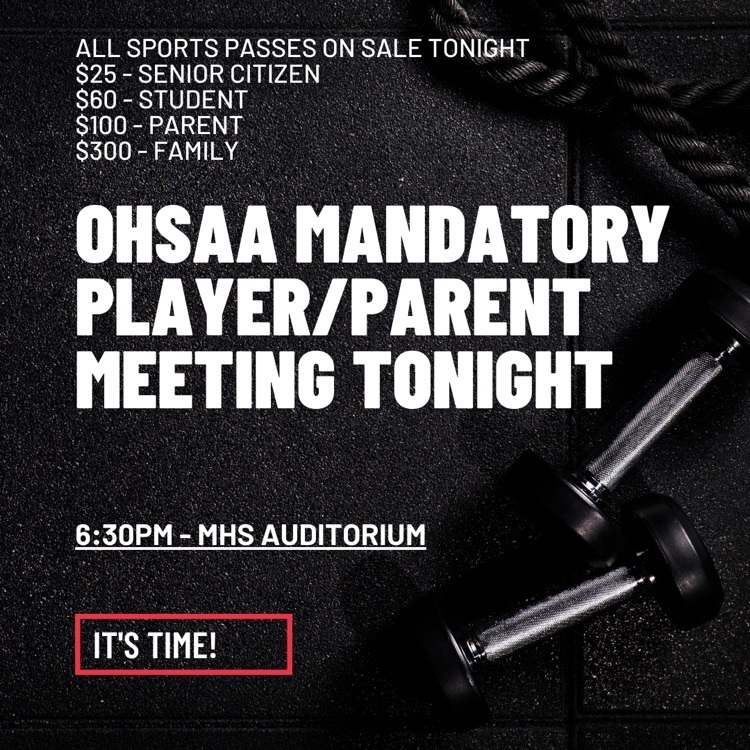 UPDATE: Due to the weather forecast and gym renovation, the youth camp is being pushed back one day. It will now be held July 19th-July 21st from 6pm-8pm at the HS practice field. Thanks and hope to see everyone then!
Mark your calendars Student Athletes and Parents: 7/26/2022 - 6:30pm Mandatory OHSAA Player/Parent Meeting MHS Auditorium For all 7th-12th grade athletes and their parents that plan to play a fall sport!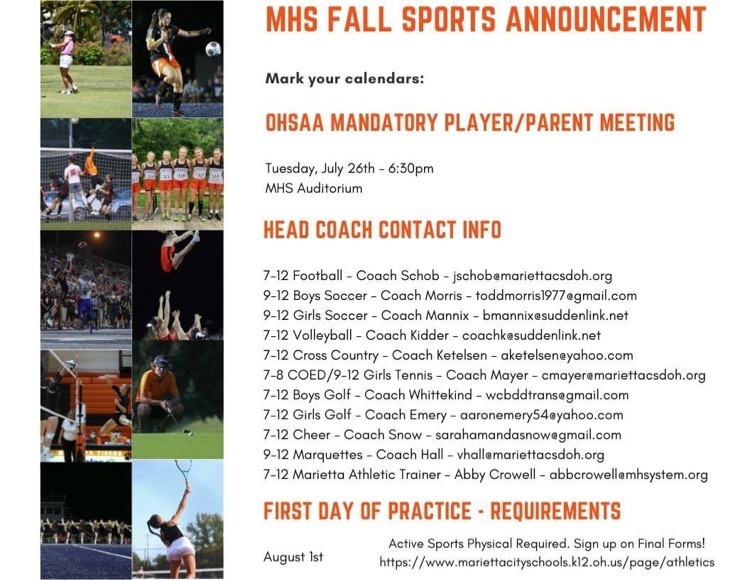 Good morning! For all students coming to complete their physical today, they will be held in the MHS weight room! An appointment must be made prior. Students must bring their completed physical form (including a parent signature) to their appointment. Thank you and have a great summer!
Attention All Female Basketball Players: Join us tonight in Sutton Gymnasium (MHS) at 6pm to welcome Coach Ryan McClain! Ryan is being recommended by the Athletic Director to take over as our new Head Girls Basketball Coach on Monday! We hope to see you there!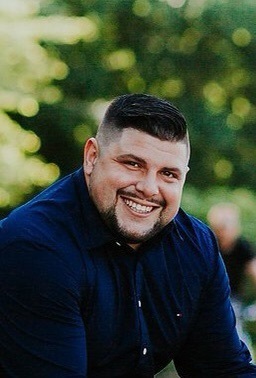 If you haven't made dinner plans for tonight, swing by Applebees to support Marietta Athletics! Go Tigers!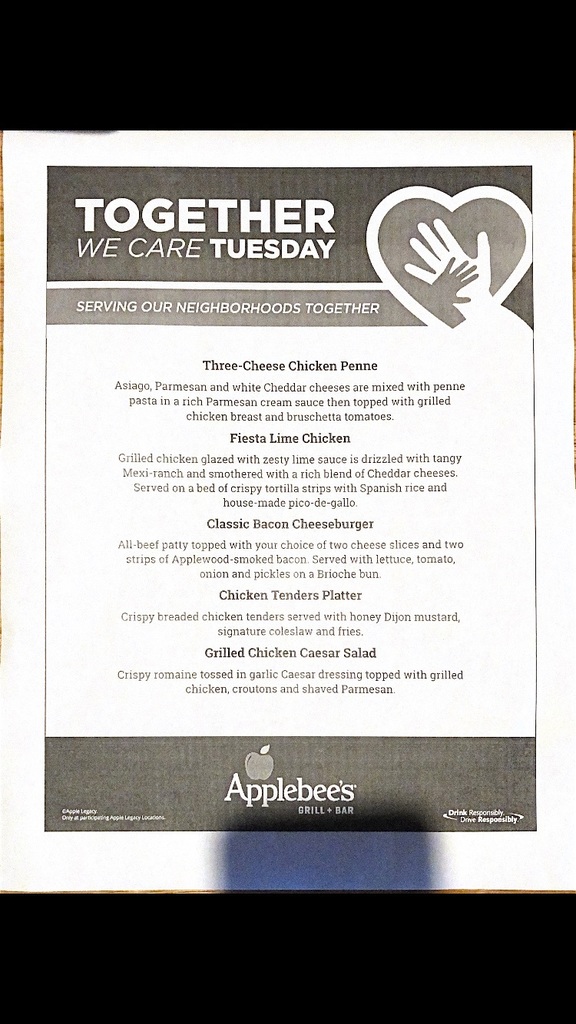 As the 2021-22 school year draws to a close, it's time to get your Tigers ready for next year. Parents of current fourth and fifth-grade students (going into fifth and sixth grades in August 2022), please remember to fill out the Scheduling Worksheet that went home with your student. These paper worksheets are due back to Marietta Elementary School by Friday, April 22.
https://www.mariettacityschools.k12.oh.us/o/mms/article/713216

Tiger families we have had an unexpected false alarm at the Marietta Elementary School building today. All children and staff are safe.
Saturday Sports Update Jr High Boys Basketball v Warren CANCELED! Freshman Boys Basketball v Athens CANCELED! Varsity Girls Basketball v New Philly 1pm - Tickets available online or at the gate using a debit or credit card!
https://www.mariettacityschools.k12.oh.us/page/athletics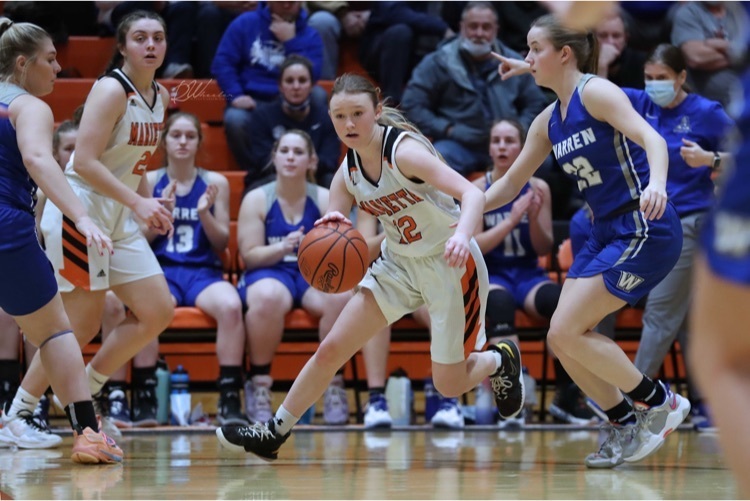 Date Posted: February 4, 2022 Date Removed: Open until filled The following coaching positions are available for the Spring 2022 season and for the Fall 2022 season. If you are interested in applying for any of the positions, please email Cody Venderlic at
cvenderlic@mariettacsdoh.org
Resume with a cover letter expressing interest are strongly encouraged! Spring Assistant Varsity Crew Coach $2,434 Spring Assistant Jr High Track Coach $1,738 Fall Head Cross Country Coach $3,477 Thank you and please spread the word!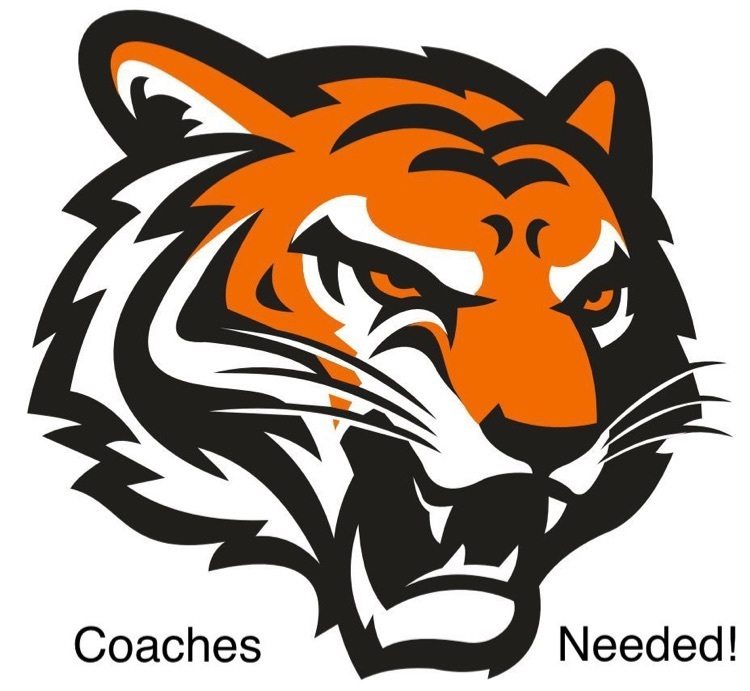 This coming Friday, November 12th, we will be having our Veterans Day Assembly in the morning. We are inviting Veterans to attend this assembly. If you attend, please check in at the secure entrance around 9:45 a.m. The assembly will start around 10:00 a.m. The new secure entrance is at the front of the building after you pass the gym steps. You are permitted to park in front of the building (where the track area is located). Also, we are encouraging students to wear Red, White and Blue for our assembly.

Marietta Elementary School will begin public use of the new secure entrance Friday. All visitors, parents and guardians must use this entrance.
https://vimeo.com/632406104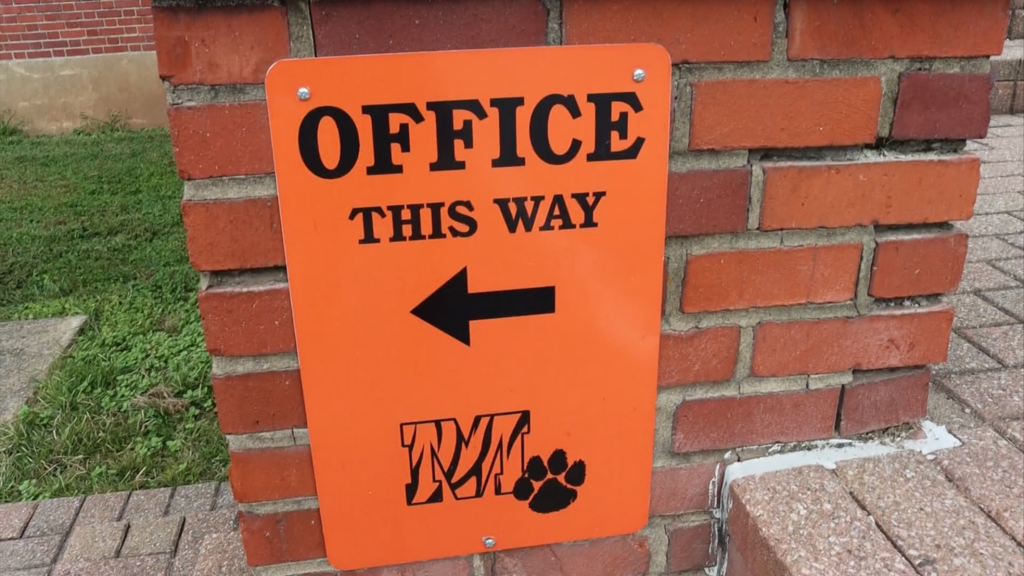 On Friday, August 6th by 4:00 p.m. homeroom classes will be posted on the MES Gym doors for everyone to view!