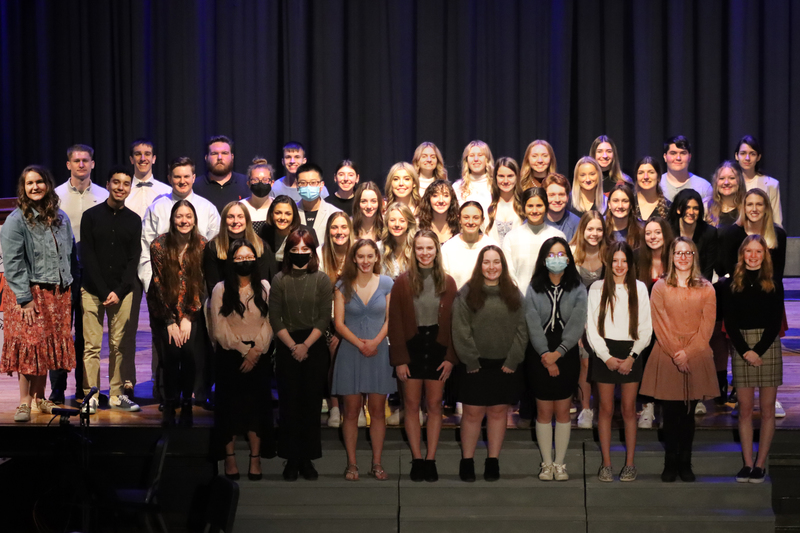 Marietta City Schools celebrated 46 Marietta High School students this week with an induction ceremony honoring not only the academic successes of each but also their commitments to character, leadership and service.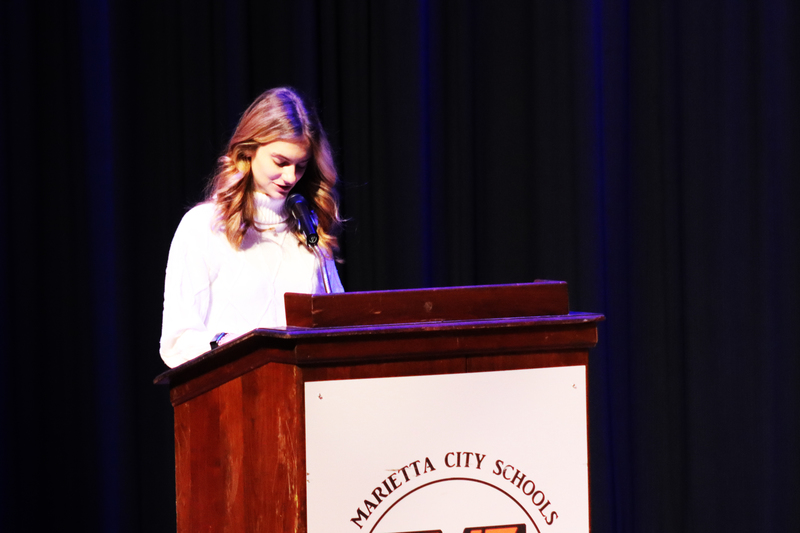 "In addition to their strong academic records, which establish the eligibility for membership, our chapter members are leaders in many student organizations and we serve our school and community through many activities, including tutoring, community beautification, and drives to help those in need," opened Katryna Temesvary, chapter president of the MHS National Honor Society.
Superintendent Will Hampton shared in the joy of the celebration, noting multiple delays due to snow days this school year.
"This is the fourth time we've tried— it's snowed every other time," he smiled.
And for the 2020-21 Inductees to the chapter, delays of the pandemic included another school year between celebrations.
"We finally get to honor these kids for the work they've put in," added the chapter's new advisor Kirsten Goeller '97, who teaches Spanish at Marietta High School.
2020-21 Inductees
2021-22 Inductees
Honorary Inductees
Emily Arnold
Bijou Burgardt
Lauren Clark
Claire Erdelyi
Camille Herb
Hannah Lovejoy
Elyse Macatol
Carman Ngai
Annabella Payne
Claire Schenkel
Lucy Scott
Zachary Stachera
Katryna Temesvary
Lynncoln Tynan
Cassidy Wilson
Grace Wojcik
McKenzie Wright
Taylor Yoho
Jason Zheng
Rowen Baker
Emma Bauerback
Sylvia Erdelyi
Maya Farley
Alexandria Freimann
Ethan Gault
Cassidy Graham
Elizabeth Haller
Janelle Hawkins
Kennedy Hearing
Landyn Listermann
Kelsey Mallett
Kendal May
Megan Mestuzzi
Sophia Moore
Kristen Pfaff
Henry Porter
Lily Sands
Owen Schaad
Hailey Shearon
Madeline Stachera
Kiera Starcher
Minise Sun
Aaron Vessels
Abderrahim Kandoussi
Quentin Pichon-Amblard
Naia Villanueva Martinez
Hampton and Goeller noted the credentials for membership don't end with a minimum grade-point average of 3.6.
"It's scholarship, leadership, service and character," Hampton recalled. "Recognition for the individual components on their own is special. To be recognized for the achievement of all of it is extraordinary and reflective of the young people we have with us. When you consider each of the components, you get a sense of the full range of impact each student can have."
SCHOLARSHIP

"Scholarship is to be created not by compulsion, but by an awakening of pure interest and knowledge." — Ralph Waldo Emerson
"Scholarship denotes a commitment to learning a student is willing to spend hours in reading and studying knowing the lasting benefits of a cultivated mind," Chapter Treasurer Emily Arnold described. "We should continue to learn even when formal education has ended for human education ends only at the end of life."
But obtaining knowledge requires diligence.
"Candidates have the charge to continually expand their world through opportunities inherent in scholarship," she continued.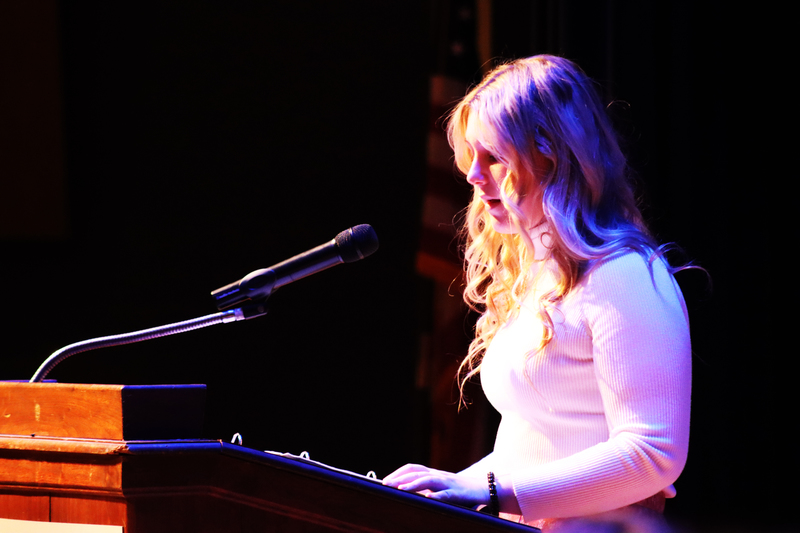 SERVICE
"The best way to find yourself is to lose yourself in the service of others." — Mahatma Gandhi
"Service can be established in the routine of the day's work, where many opportunities arise to help others both at school and in the community," Chapter Vice President Annabella Payne described. "A willingness to work for the benefit of those in need without monetary compensation or public recognition is the quality we seek in our membership and promoting the entire student body. We are committed to volunteering our time and talents to the creation of a better tomorrow. "
LEADERSHIP
"Leaders become great not because of their power, but because of their ability to empower others."— John Maxwell
"Leadership should exert a wholesome influence on the school. Intaking initiative in the classroom and in school activities, the real leader strives to train and aid others to reach their common goals of success. The price of leadership is sacrifice," described Chapter Secretary Claire Schenkel. "The willingness to yield one's personal interest for the interest of others. A leader has self-confidence and will go forward when others hesitate. No matter what power and resources may exist in a school, community or nation, they are ineffectual without a wise leader, leadership is always needed. Thus to lead is a meaningful and substantive charge to each of our members."
CHARACTER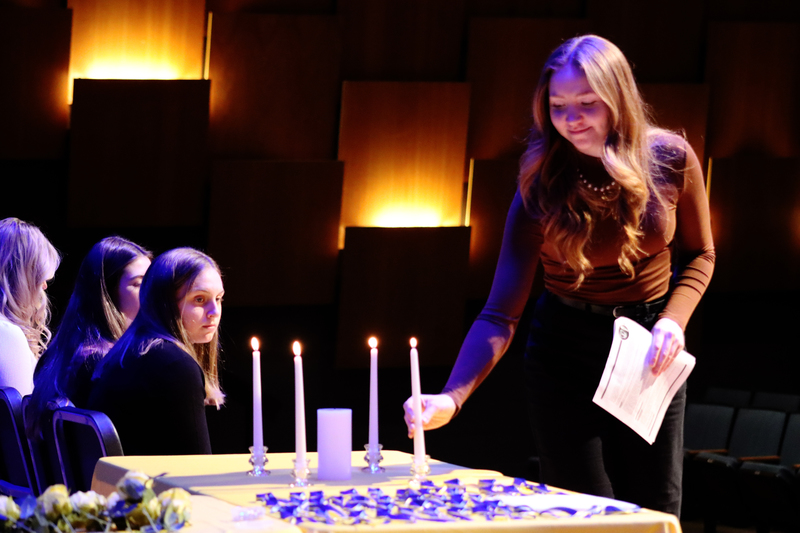 "Character is the real foundation of all worthwhile success." — John Hays Hammond
"Character is the force within the individual that distinguishes each person from others, it creates for each of us our individuality, our goodness," explained Chapter Sergeant at Arms Lucy Scott. "It is that without which no one can respect oneself nor hope to attain the respect of others. It is this force of character that guides one through life, and once developed, grows steadily within. Character is achieved and not received. It is the product of constant thought and action, the daily striving to make the right choice. The problem of character is the problem of self-control...By demonstrating such qualities as respect, responsibility, trustworthiness, fairness, caring, and citizenship, we may hope to prove by example that we value character."