Marietta City Schools welcomed to Washington Elementary School the district's insurance adjuster today in the next step to mitigate water damage from burst pipes over winter break.
"We met with him this morning and are excited to keep this process moving," shares Superintendent Brad Silvus.
Parents and partners that have entered the building this semester have noticed the effects of changes in temperature over the last month, with this week serving as a perfect example of the need for consistent attention to humidity levels as paint peels and wooden floors continue to warp.
Just after Christmas, two 1.5-inch lines froze and burst in the upstairs girls' bathroom. The resulting water then ran out onto the second floor toward Washington Street, down through the ceiling of the first floor and again along the floor into both the office and bathrooms.
"We were lucky to catch it within 3.5 hours of the break and had the water shut off quickly," describes Darrell Prim, Transportation and Facilities Manager.
But the process of fixing damage in the more than 100-year-old structure will not be a short one.
"We are working with our insurance company and will be eyeing some shorter-term solutions, but this will, unfortunately, cost several thousand dollars and we will have to bid out the work, which extends the timeframe for repairs."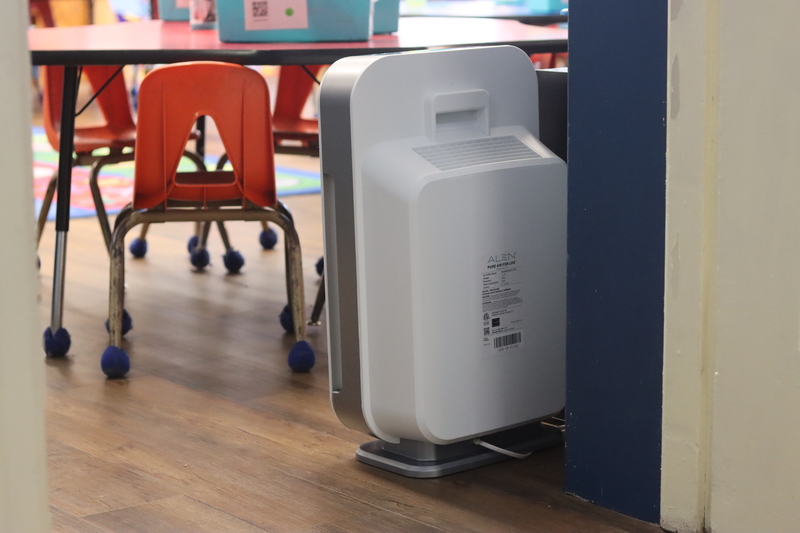 In the meantime, recommended mitigation efforts have been implemented to keep staff and students safe including coverings over holes in the original wooden floors.
"And dehumidifiers are running pretty much 24/7," explains Prim. "They're all set at the recommended 30% humidity and a few weeks ago we took air samples both inside and outside to get a baseline and monitor air quality."
More recently, the district added new air purifiers with HEPA filters.
Next, temporary flooring and paint removal are the target for this Spring.
"The goal right now is to get something flat and safe to walk on as quickly as possible, then come back and put in new floors this summer," Prim adds.
He says the district's investment in security upgrades in recent years helped him to track when the pipe failures occurred and how swiftly the maintenance and custodial team was able to respond.
"By 4:30 a.m. the custodian was here and caught what was happening," he describes. "We got the water shut off, and by 8 a.m., I brought in teams from Marietta Elementary School, Marietta High School and Phillips Elementary School to suck up the water."
Marietta City Schools thanks each team member who pulled together that herculean task and asks for the continued support of Washington families and staff moving forward.