While class was out Friday for the tiger cubs of Marietta City Schools, learning didn't stop in the buildings.
Marietta Elementary School Principal Brittany Schob and Marietta High School Assistant Principal Alison Woods opened the day of professional development in the MHS auditorium for upper elementary and secondary school teachers.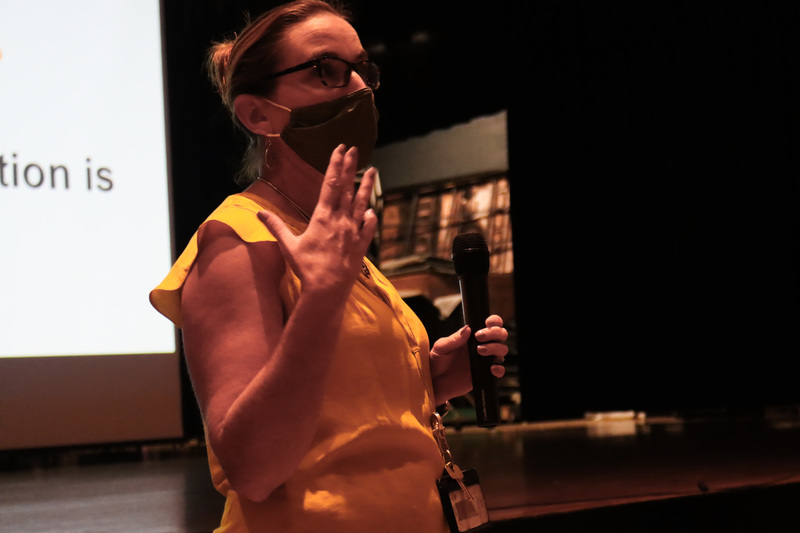 MHS Assistant Principal Alison Woods encourages prevention Friday.

They started the Positive Behavior Intervention Supports' training with the prompt:
Think of your favorite teacher or a teacher who impacted you during your educational career. What positive characteristics did that teacher have and how did that teacher build a relationship with you?
"My seventh-grade math and social studies teacher's name was Mr. Miller," described MHS Assistant Principal Kyle Scott. "In the building, he was the guy who took over for the principal when they were out… he had that persona where we knew we had to adhere to certain expectations in the classroom."
The question prompted a critical memory for Scott.
"One time when my friend and I had finished our tests before everybody else, he let us play chess (he was the Chess Club guy)," the new MHS addition shared. "But he asked us to stop talking several times and we didn't."
The consequence, Scott recalled, soon emerged.
"He kept us after class and it scared me," Scott described. "He told us he was disappointed in us and that hurt way more than if he were to yell. Both of us remember that to this day and every time we see each other every few years, we talk about it."
Scott explained that without aggression or intimidation, Mr. Miller taught the value of respect and meeting expectations.
"Knowing that not meeting somebody's expectations — someone who cares about you and wants the best from you, well, that means something," he said. "It made me realize that if I was going to have something special like getting to play chess after a test, that the teachers were looking to me to be a leader."
For Sixth Grade Teacher Karlee Bruns, the question prompted memories of a high school psychology and sociology teacher.

"She just really cared for us and she made us feel welcome," said the new addition to Marietta Elementary School. "We could talk with her about anything… And she loved what she was teaching; you could tell that she loved it, which made it super fun."
Another new addition to the Tiger Team shared how her chemistry teacher in high school pushed her to believe in herself.
"I absolutely hated chemistry, but he asked us all in that class what we thought we would get in that class, what our goal was," shared English Teacher Emily Thompson. "I said my goal was a 'C' because I just really thought I was going to fail it."
But what happened next, shifted Thompson's mindset.
"He pulled me out and made me change my goal," she explained. "He said he believed in me."
He capitalized upon that pivotal moment.
"When I really needed to have high expectations for the class and myself in the subject, he taught me the importance of being where you are now, giving the attention to what you're doing," Thompson described. "Being here, now. That's what sticks with me."
Marietta City Schools Alumni, can you identify the most impactful characteristics in your favorite school teacher?